---
Escape Artists would like to draw your attention to a fantastic event happening next week at DragonCon, the Eugie Foster Memorial Award for Short Fiction.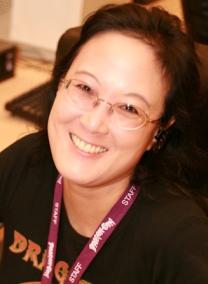 This annual award will be presented for the first time in 2016—for works published in 2015.The Eugie Award honors stories that are irreplaceable, that inspire, enlighten, and entertain. It will shine the spotlight on stories that are beautiful, thoughtful, and passionate. That change us and the field. The recipient will be a story that is unique and will become essential to speculative fiction readers.
The finalists for this award are:
"The Deepwater Bride" by Tamsin Muir
"Hungry Daughters of Starving Mothers" by Alyssa Wong
"The Long Goodnight of Violet Wild" by Catherynne M. Valente
"Pocosin" by Ursula Vernon
"Three Cups of Grief, by Starlight" by Aliette De Bodard
To highlight how fantastic these authors are, we are re-running three stories on Escape Pod, PodCastle, and Pseudopod:
Escape Pod 408: Immersion by Aliette De Bodard
Podcastle 198: Urchins, While Swimming by Catherynne M. Valente
Pseudopod 492: The Fisher Queen by Alyssa Wong
Also make sure to check out Ursula Vernon's story "Jackalope Wives" available to read for free at Mothership Zeta. And mark November on your calendar for an upcoming story by Tamsin Muir.
---
Pseudopod 492: The Fisher Queen
by Alyssa Wong
"The Fisher Queen" was first published in The Magazine of Fantasy & Science Fiction, May/June 2014. It is available to read free online at fu-GEN.org. "The Fisher Queen" was on the shortlist for the 2014 Nebula along with Eugie Foster's last story, "When It Ends, He Catches Her" which ran last year on Pseudopod. It has been translated into Chinese, French, and German. "The Fisher Queen" is set up in the fashion of traditional oral storytelling, where truth and myth blend together. However, it's about the very real effects of societal, systematic violence against women.
Alyssa Wong is a Shirley Jackson-, and World Fantasy Award-nominated author, shark aficionado, and 2013 graduate of the Clarion Writers' Workshop. She made the shortlist for the 2015 Stoker Award and won the 2015 Nebula Award for "Hungry Daughters of Starving Mothers" which you should go check out at Nightmare Magazine. Her work has appeared in The Magazine of Fantasy & Science Fiction, Strange Horizons, Tor.com, Uncanny Magazine, Lightspeed Magazine, and Black Static, among others. She is an MFA candidate at North Carolina State University and a member of the Manhattan-based writing group Altered Fluid, and can be found on Twitter @crashwong. Alyssa Wong has been deservedly shortlisted for the Joseph W. Campbell Award for New Writers this year, and "The Fisher Queen" is part of why she made it to the list.
Your narrator – Mae Heaney is originally from Manila, Philippines and currently lives in Melbourne, Australia with her Irish husband, 2 young children and Parmi the Chook. She is an IT professional who once briefly dabbled in theater, and loves to bake to tame the voices in her head. She is very successful in changing nappies under five minutes, but fails miserably in trying to read her toddler's mind and in updating her blog celticpinaymom.blogspot.com.
Your guest host this week is Associate Editor Dagny Paul. Dagny is an 8th-grade English teacher who lives in New Orleans with her husband and four-year-old son. She has an unhealthy (but entertaining) obsession with comic books and horror movies.
****************************
MY MOTHER WAS A FISH. That's why I can swim so well, according to my father, who is a plain fisherman with a fisherman's plain logic, but uncanny flair for the dramatic. And while it's true that I can cut through the water like a minnow, or a hand dipped over the edge of a speedboat, I personally think it's because no one can grow up along the Mekong without learning two things: how to swim, and how to avoid the mermaids.
Mermaids, like my father's favorite storytale version of my mother, are fish. They aren't people. They are stupid like fish, they eat your garbage like fish, they sell on the open market like fish. Keep your kids out of the water, keep your trash locked up, and if they come close to land, scream a lot and bang pots together until they startle away. They're pretty basic.
My sisters tried to talk to a mermaid once. It was caught up in one of Dad's trammel nets, and when they went to check the net out back behind the house, they found this mermaid tangled in it. It was a freshwater one, a bottom-feeder, with long, sparse hair whose color my sisters still argue about to this day. Iris, the oldest, felt bad for it and made May splash some water on its fluttery gills with her red plastic pail. She asked the mermaid if it was okay, what its name was. But it just stared at her with its stupid sideways fish eyes, mouth gaping open and closed with mud trickling out over its whiskers. Then Dad came home and yelled at Iris and May for bringing in the nets too early and touching the mermaid, which probably had sea lice and all kinds of other diseases.