Anthologies and Collections from 2022: Dream Warriors
---
Here at PseudoPod we believe that short stories in anthologies (pieces by different authors) and collections (pieces from a single author) deserve to be seen by more readers. We, and our audience, love short fiction and we never have enough slots to run everything we'd like to in a year – but what we can do is shine a light on some of the many, many books that feature amazing selections of stories.
With that in mind, we put out an anthologies and collections call in the summer of 2022. Since then, our dedicated editorial team have been reading and discussing stories and… wooooeee, we have some amazing pieces coming up for you in the coming months.
---
Here's a summary of the books we plan to feature in 2022 and 2023:
Anthologies
Published by: Cemetery Gates Media
The publisher says: A Woman Built By Man is a collage of 21 horror tales that seek to crawl under the skin and deconstruct the many ways women are built up and broken down by a patriarchal society. And the many ways they're finally saying, "Enough."
We say: An anthology that includes both human and inhuman monsters – every story is a chilling, and thought-provoking, exploration of the way women's lives are affected by men.
---
Published by: indie/kickstarter funded
The publisher says: Death in the Mouth is a horror anthology showcasing BIPOC and other ethnically marginalized writers and artists from around the world. It features 26 short stories accompanied by 26 original illustrations spanning across genre and time, from real and fictive worlds, all while exploring new and unique manifestations of horror.
We say: Each story offers a unique experience as we travel through vividly realized locations. Unsettling and thought-provoking.
---
Published by: HOWL Society Press
The publisher says: HOWL Society Press presents the first-ever anthology of medieval horror! Howls from the Dark Ages contains 18 thrilling tales of cursed castles, wild woodlands, haunted hamlets, and mysterious monasteries, with an introduction by Christopher Buelhman, the author who started it all with his novel Between Two Fires.
We say: If you like the idea of medieval horror this will, of course, appeal. But we urge you to take a look at this anthology even if you've never given that particular time period much thought – there are some delightfully disturbing stories in here that are guaranteed to stay with you.
---
Mother: Tales of Love and Terror
Published by: Weird Little Worlds
The publisher says: In these 27 stories and poems, mothers become heroes and villains. The concept of motherhood is examined and stretched to its ultimate limits across time, space, gender, location, and concept. Deliciously dark, each tale forces us to examine the depth and breadth of what motherhood is and what a mother will do for her offspring.
While the backer's edition was released to the crowdfunders, you can preorder your copy here: https://bookshop.weirdlittleworlds.com/product/mother-anthology/
We say: Mother is the name for God on the lips and hearts of all children. This is a powerful anthology, and discussion was fierce as to which story to include in the showcase. Plenty of familiar and new (to us) authors here, and everything glows.
---
Collections
by Tyler Jones
Published by: Cemetery Gates Media
The publisher says: From Tyler Jones (author of Criterium, The Dark Side of the Room, and Almost Ruth) comes Burn the Plans, a collection featuring fifteen tales of supernatural suspense. Released February 28th 2022 — eBook, paperback, and hardcover now available!
We say: This is Tyler Jones' first collection, and it features a terrific mix of stories, covering everything from guilt to a Christmas gone badly wrong. We especially liked Trigger and Corporation.
---
by Joe Koch
Published by: Apocalypse Party
The publisher says: "There's something to be said of a writer with an exceptional dexterity when it comes to language, an expert prowess when it concerns crafting beguiling and truly visceral text that will mystify and astound even the most temperamental of readers. Joe Koch is indeed a writer with such a gift—an immense talent when it comes to language that spellbinds, enchants, and bewilders the reader until they are transformed. Their work is magnetic, transformative, and alluring while simultaneously serving as something especially grotesque." — Eric LaRocca, author of Things Have Gotten Worse Since We Last Spoke
We say: A rich collection of 15 stories, with some favorites being Offerings, The Object of Your Desire Comes Closer, How to Fillet an Angel and Blood Calumny. If you like surreal, decadent, and lyrical stuff, try this out.
---
by Orrin Grey
Published by: Word Horde
The publisher says: Orrin Grey returns with eighteen haunting stories of the strange and supernatural. Look for How to See Ghosts & Other Figments coming this Halloween to better independent booksellers everywhere, and most online retailers. Copies with signed bookplates are available for pre-order direct from Word Horde.
We say: Orrin's work never fails to delight. This is a superb collection, and we argued long and hard over which stories we should include. We promise you won't regret it if you pick this one up. Well, apart from the nightmares…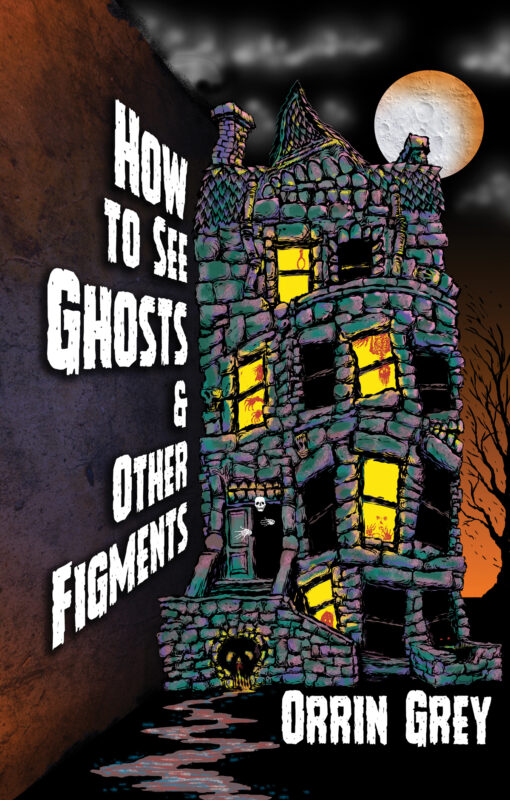 ---
by Carlie St. George
Published by: Robot Dinosaur Press
The publisher says: Final girls who take care of each other. Dead boys still breathing. Ghosts who whisper secrets you can never share. Angels beyond the grave, yet not of heaven. Wolves who wear human skins. Featuring ten contemporary dark fantasy and horror stories, You Fed Us To the Roses is a visceral, triumphant collection by Carlie St. George that you won't want to miss.
We say: This collection covers every type of horror, from werewolves to demonic possession. Weird and different, written by a true horror fan.