by Christi Nogle
"In The Country" is a Pseudopod original.

CHRISTI NOGLE teaches college English in Boise, Idaho, where she is fortunate to spend the better part of each day reading and writing. She is an avid reader with eclectic tastes in fiction and a special appreciation for audiobooks. She is — surprisingly! — new to submitting fiction for publication. Except for a short piece published in the local Log Cabin Literary Center's anthology, "In the Country" is the first piece of fiction she has submitted for publication. She has been very pleased with the responses she has received so far. She wants to thank her friends Elizabeth Barnes and Heidi Naylor for encouraging her to send out her stories, and she wants to encourage others who might be hesitant to send out their work. Her story "Cubby" recently won the Portable Story Series's Time Travel contest. You can listen to actress Lili Taylor read it here. This contest offers professional narration and recording and gives listeners the opportunity to donate to charitable organizations when they download stories. You can follow Christi on Twitter @christinogle.
This week's reader – Dagny Paul – is a teacher, writer, failed artist, comic book geek, and associate editor/occasional host of Pseudopod. She is guest editor for Pseudopod's Artemis Rising 3 event in 2017.


She lives in the middle of nowhere, Louisiana. Follow her on Twitter for no good reason @dagnypaul. Listen to her story "There is No Road Through the Woods" on Pseudopod.
---

YOUR SPECIAL GUEST HOSTS THIS WEEK
– Tackling all things horror with a slash of analysis and research, horror journalists and occasional academics
Andrea Subissati
(who kicks off as Executive Editor with the May/June issue of
Rue Morgue
(#176), on stands May 1, 2017 and available digitally one week prior to newsstands at
RUE MORGUE DIGITAL
) and
Alexandra West
are your hosts for brain plumping discussions on all things that go bump in the night.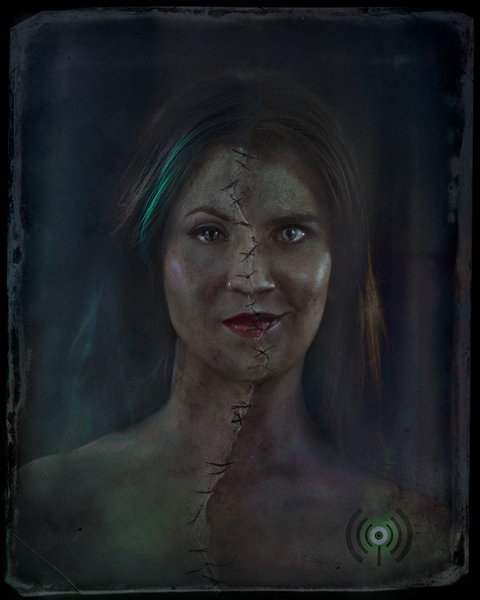 Produced independently in Toronto, Ontario The Faculty of Horror is your best source for classic and contemporary horror film discussions that will haunt the libraries of your mind! Subscribe to The Faculty of Horror through iTunes, Stitcher or via RSS. Follow us on Facebook and Twitter, and join in the discussion on our official subreddit!
---
Info on Anders Manga's album (they do our theme music!) can be found here.
---
"'The reason that you're able to find things when you go hunting for them is sort of the same reason you see faces everywhere. It's like if you're hunting for daisies, and you know what a daisy looks like, you have that picture in front of your eyes, and when there is a daisy there to fit into the picture, you will see it,' Cassie says just as they enter the woods.
'Then I have a picture of a mushroom, and one of a pretty forest flower—not of a daisy—and one of a turtle shell, all at the same time" Myrna says, "since those are what I want to find.'
'You can't. It doesn't work that way.'
'It does. I can. I am a very able person,' Myrna says, adjusting her gait to miss a slimy patch of wet moss."
Standard Podcast
[ 41:00 ]
Play Now
|
Play in Popup
|
Download