Shawn Garrett: Co-Editor
Shawn M. Garrett is the co-editor of PSEUDOPOD and either the dumbest smart man or the smartest dumb man you ever met. Thanks to a youth spent in the company of Richard Matheson, Vincent Price, Carl Kolchak & Jupiter Jones, he has pursued a life-long interest in the thrilling, the horrific and the mysterious – be it in print, film, art or audio. He has worked as a sewerage groundskeeper, audio transcription editor, pornography enabler, insurance letter writer – he was once paid by Marvel Comics to pastiche the voice of Stan Lee in promotional materials and he spends his days converting old pulp fiction into digital form for minimal pay. He now lives near the ocean in a small metal box and he hopes that becoming a Yuggothian brain-in-a-jar is a viable future, as there is NO WAY he will ever read all the books he has on his lists, or listen to all the music he wants to hear. Everything that he is he owes to his late sister Susan, a shining star in the pre-internet world of fan-fiction, who left this world unexpectedly in 2010.
Alex Hofelich, Co-Editor
Alex Hofelich is Co-Editor of Pseudopod and pictured here at Trader Vic's Atlanta. You can find him at tiki bars, local bookstores, microbreweries, and family-owned eateries. Like most tigers, Alex is made up of dragonflies and katydid, but mostly chewed-up little kids.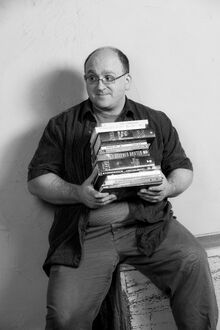 Alasdair Stuart, Host
Alasdair Stuart was briefly employed as a circus geek until an unfortunate mix-up involving a prize-winning fighting cock. Its owner had ties not only to the carnival, but also to the Russian mob, so now he writes supplements for role playing games, where he exercises his superpower to make you appreciate the Sixth Doctor. He has played for the national rugby team after defeating the monstrous four-horned sheep across his home island. He is the Supreme Mugwump, Keeper of the Big Red Button. a regular contributor to Tor.com, and he owns a bunch of awesome podcasts.
Chelsea Davis, Audio Producer and Associate Editor
Chelsea Davis is Audio Producer and Associate Editor at Pseudopod. She is a PhD candidate in English with a research focus on horror and the Gothic–meaning she gets to read, write about, and teach creeptastic stuff all the livelong day. She has also produced radio as a reporter and freelancer since 2006.
Marty Perrett, Audio Producer and Associate Editor
Marty Perrett has dabbled in the podcasting/narrating/production world for around 10 years now and likes to fumble his way around manipulating audio for best results. An office manager by day, he lives with his partner and their ridiculous cat in London. His local pub knows him by name and starts pouring his drink before he's even stepped in the door.
Marty is also perpetually in the middle of writing a four-part comedy sci-fi novella series called Space Danger, under the name Doug Strider. His belief is that if one day he should finish it then all other prophecies will come to pass (in time for tea, it is believed). So it's like a huge responsibility.
Brian Lieberman, Community Manager and Associate Editor
Brian Lieberman is an associate editor of Pseudopod. By day, he's a froody copywriter who always remembers his towel. By night, he practices foodcraft and slays demons with his friends. He lives in Columbia, Maryland with his wife, a roommate, and a cat with no patience for his tomfoolery.
Shawna Borman, Associate Editor
Shawna Borman graduated magna cum laude from Southern Methodist University in 2012 with a B.A. in English specializing in Creative Writing. During her time at SMU, she won second place in the school's annual fiction contest, as well as the Margaret Terry Crooks Award for Most Outstanding Creative Writing Student. She earned an M.F.A. in Creative Writing, specializing in popular fiction, from the University of Southern Maine's Stonecoast program in January 2015. Though she dabbles in all genres, her true love is horror. Whether dealing with your average socially awkward serial killer or an angel/demon/mortal hybrid entering the terrible teens, Shawna is most at ease visiting with the voices in her head. She resides in Texas with her father.
Tad Callin, Associate Editor
Tad Callin has been a lot of things, but he is most proud of being a father and writer. His previous published work includes an urban fantasy story, "Silver," published on the Dunesteef Audio Fiction Magazine podcast, and his self—published memoir, Tad's Happy Funtime. One day, he hopes to return to the desert Southwest with his family, but for now, he enjoys living in Baltimore.
Scott Campbell, Associate Editor
Scott Campbell searches for battles that will increase his skills for the battles to come.  The slush pile underneath Pseudopod Towers is a worthy opponent.  He also writes, directs, and performs for the queer (in every sense of the word) cabaret The Mickee Faust Club.  He also write far too infrequently at the official online home of the Sleep Deprivation Institute (and pop culture website) Needcoffee.com.  He lives in Florida with absolutely no pets.
Cecilia Dockins, Associate Editor
Cecilia Dockins resides near Nashville, Tennessee. Over the years, she has slung cocktails in bars, instruments in surgical suites, ink on paper, and possibly a curse word or two. She's an Odyssey Writing Workshop graduate and former University of Maine: Stonecoast student, a failed academic, loner, dreamer, damn-good angler, and professional book hoarder.
Britany Hancock, Associate Editor
Britany has the picture perfect family. Loving husband. Two wonderful, beautiful girls. But deep down inside, she's a pessimist that hates the world and loves horror (she has a spot-on RBF so it's probably not THAT deep down). It's in her blood. Her mother, who was a huge Stephen King fan in the 80s, introduced her when she was very young. She watched Pet Sematary when she was 7 and it was the first movie that gave her nightmares. She loved it. The rush of adrenaline just couldn't be ignored. She was the weird kid in elementary school that kept the Scary Stories to Tell in the Dark collection checked out. Her favorite film was a B-movie called Waxwork. One of the greatest joys of her life was in college when her husband, then boyfriend, found Waxwork on DVD and bought it for her. Oh, memories…
Adrian Howard, Associate Editor
Adrian Howard helps teams get better at delivering software products for a living. People don't pay him to write bad fiction or run silly interactive micro-fiction experiments (but he does it anyway). Adrian spends his day vacillating wildly between Impostor Syndrome & the Dunning-Kruger effect while tweeting about drinking coffee. No matter how much he cries, no matter how much he begs, never feed him after midnight.
Kim Lieberman, Associate Editor
When she's not touring the catacombs of PseudoPod towers, Kim Lieberman can be found crocheting something adorable, learning something new, or re-reading Harry Potter. She lives in Columbia, Maryland, with her husband and way too many stuffed animals. You can find her online at 
foxnmoose.com
 where she blogs and practices her crafts.
Austin Malone, Associate Editor
Austin Malone is a short-fiction author who lives in New Orleans, and is the coordinator of the Crescent City Critters writer's group. Those who are curious about his work and would like to use their personal summoning-circle to conjure his presence for further discourse are urged to use vanilla-scented black candles and only top-shelf rum. Seriously. If you even think about using Bacardi he'll rip your soul out through your nostrils. Just don't. For those who would prefer to enjoy his words at a safe distance, he invites you to visit sippinghemlocktea.com
Erin Roberts, Associate Editor
Erin Roberts is a writer and communicator-for-hire who managed to find a way to be a storyteller when she grew up. Her fiction has appeared or is forthcoming in PodCastle, Clarkesworld, The Dark, and Asimov's, and her non-fiction has appeared in places from Tor.com to People of Colo(u)r Destroy Fantasy.  She is a graduate of the Odyssey Writing Workshop and Stonecoast MFA program, an Associate Editor for Escape Pod, and the winner of the Speculative Literature Foundation's 2017 Diverse Worlds and Diverse Writers Grants. When not writing stories or reading slush, she spends time singing karaoke, working on game writing projects, and musing about life, the universe, and all things writing at writingwonder.com and on Twitter at @nirele.
Victoria Winnick , Associate Editor
Victoria Winnick is a writer, editor, and chef, living in Calgary, Alberta. When she's not doing one of those things, she's usually making plans about the next time she can. In the past, she's written educational books for children, and magazine articles on sex, culture, and music. She has been an Associate Editor with Pseudopod since the Aughts, and some of her favourite episodes are "The Greatest Adventure of All" by Ian McHugh, "
Corps Cadavres
" by Neil John Buchanan, "
Venice Burning
" by A.C. Wise, and "
The Box Wife
" by Emma Osborne. Her own submissions to the podcast can be heard as episode 467, "
Doc
" and part of
episode 532: Flash On The Borderlands XXXVI: Artemis Rising Showcase
 "Us, Here"